Artificial Grass Innovations & Cost Savings  
Artificial Grass has gained a lot of attention from homeowners over the past 5 years. With innovations in realism, texture, and working life span, homeowners have increased reason to give artificial grass a serious look. When considering landscaping costs, artificial grass boasts many benefits and considerable savings over time. But what about drawbacks? While turf has changed tremendously since the 70's and 80's, are there any negatives? Lets explore some of these benefits and drawbacks on how turf has developed over the years.
Artificial Grass: Out with the Old in With the New
How many times have we seen images of the old "mint green" colored turf or images of failed landscape
installs? While the clear majority of these are decades old, it still makes a huge impression today. This often reflects on how the average homeowner views artificial grass. After all, who would want a mint green plastic lawn for all the neighbors to see? Today's artificial turf has made huge leaps forward in realism to the point you would have to get on your hand and knees to know the difference. There are now even different turf styles to mimic grasses of different regions. From Bermuda to Fescue and Zoysia, artificial grass is now made to take on even the most meticulous and well-manicured sod lawns. Today's artificial grass is made to last well over 30 years with warranties up to 15 years. Properly trained professional install crews make sure there will never be a reason for neighbors to suspect you have anything less than the real deal!
Artificial Grass: Comparing the Costs
There are many different things to think about when looking at artificial turf. Do you have dogs, do you have kids, how much traffic will it get, what kind of look are you going for, and so much more. While there are different applications for artificial grass (Commercial, Sports Fields, Playground, etc.), we would like to provide a cost comparison based on residential.
Having Artificial Lawn Turf installed, it should be easy to realize a return on investment in approximately 1 year. This is a typical cost comparison between artificial and traditional sod lawns.
Artificial Grass vs. Natural Sod Cost Analysis 
| | |
| --- | --- |
| Artificial Grass | Natural Sod |
| Turf Sq Ft: 1,200 **Comparison Size** | Sod Sq Ft: 1,200 **Comparison Size** |
| Average Turf + Installation Cost: $10.00 | Sod + Installation Cost: $3.50 |
| No Irrigation System: $0.00 | Irrigation Install: $4,500 |
| Investment so far: $12,000 | Investment so far: $8,700 |
| Annual Maintenance: $0.00 | Annual Maintenance: $800 – $1000 |
| Year 1: $12,000 | Year 1: $9,700 |
| Year 5: $12,000 | Year 5: $13,700 |
| Year 10: $12,000 | Year 10: $18,700 |
| Year 15: $12,000 | Year 15: $23,700 |
When comparing natural sod to artificial grass, there is a significant savings over the course of 15 year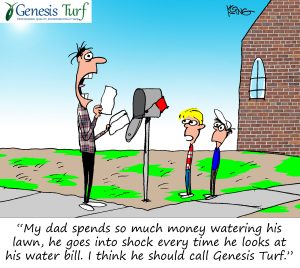 s and a break even by year 3. Depending on how you value your time and dealing with landscape
companies, not to mention water savings, there is a realistic break even in year 1 or 2. There has also been a growing number or municipal water districts now offering credits and rebates for the install of synthetic lawns as well as possible tax savings. While the actual break even over natural sod may very state to state, the long-term savings to your wallet and the environment are hard to ignore.
Here are some of the other reasons more homeowners are now considering artificial turf:
Lower Maintenance costs. no mowing, no watering, no fertilizing, no pesticides, no weeds, no worries.
Artificial Grass stays green and perfect year round.
Artificial Turf is Green for the environment. There is no carbon monoxide from mowers and other machinery, and no Methane gas from grass clippings.
Safe for pets. You won't have to worry about your pet walking on or consuming chemicals.
Artificial Grass is allergy friendly. There are no allergens, pollen or mud to deal with.
It is a perfect solution for rental properties and vacation homes where the owner cannot always be onsite.
Property Value: Since it lowers maintenance and water costs, it is heavily sought out by many potential home buyers and renters. Much like solar panels, any type of property features that are Eco-friendly can raise your property value.
Artificial Grass: The Final Verdict
While no one can ignore some of the past prejudice to artificial grass, most of this stems from decades
old products that have not been in use for at least 30 years now. New artificial turf products are now lasting well over 30 years and have the ability to give your lawn a 15-year warranty. Just imagine no lawn maintenance for 30 years and the freedom to wave to your neighbor on their riding mower while you hit the golf course … or at least run those errands you should have done days ago.
Synthetic lawns are moving to the forefront of "green" landscaping. They are eliminating the need to use harmful pesticides, fertilizers, and weed killers that are proven to put children and pets at risk. They are saving millions of gallons of water, and giving families back much needed time to spend together. Artificial Grass has grown in popularity by more that 30% every year and is fast becoming the go to solution for the average homeowner. Maybe now is the time for you to consider making a change in how you will spend your Saturdays.
Leave it to the Pros!

Genesis Turf is industry leader in artificial grass development and supply and installation. Genesis has grown to become a global leader in high quality artificial turf solutions including artificial lawn turf, artificial pet turf, artificial playground turf, artificial pet turf, and artificial landscape turf. Genesis Turf is a proud supplier to the US Military, various US colleges, The Discovery Channel, The City of Miami, and The Make A Wish Foundation. To see how we can help you, visit us online at www.online-turf.com or by calling 855-887-3435.
https://www.online-turf.com/wp-content/uploads/2018/01/Artificial-Lawn-Grass-Turf.jpeg
853
1280
turf
https://www.online-turf.com/wp-content/uploads/2019/08/300x100_online_turf_logo.png
turf
2018-01-20 17:19:53
2018-02-19 19:35:45
Artificial Grass Innovations & Cost Savings