Artificial Pet Grass Potty Stations at McCarran Airport
After a long flight, Fido might need a potty break just as much as his human companion.
Three Artificial Pet Grass areas have been designated as where pit bulls, poodles and other pooches can piddle near airline gates at McCarran International Airport.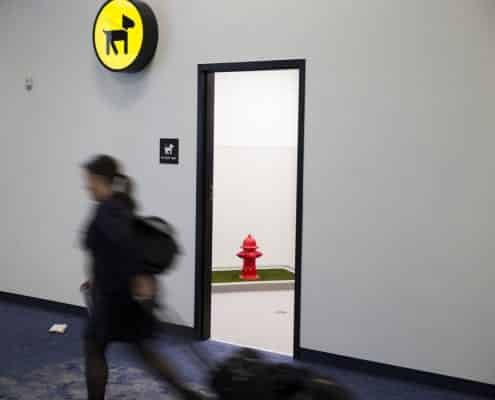 When nature calls, travelers can take their dogs and cats to enclosed pet relief areas equipped with a stretch of fake grass, red fire hydrants made of plastic and a red biohazard bin for tossing out waste-filled bags.
Airport officials spent $400,000 to equip the new stations, which opened Wednesday afternoon just past the security checkpoints near Gate E-11 inside Terminal 3, near Gate C-25 in Terminal 1 and near a children's play area in the midfield D-Gates.
The airport opened several outdoor pet potty areas in 2009, but the new indoor facilities were needed as a way to help travelers who already checked into their flight, or stopped off in Las Vegas to connect with another city, McCarran spokeswoman Christina Crews said. The Artificial Pet Grass was just a perfect fit for us.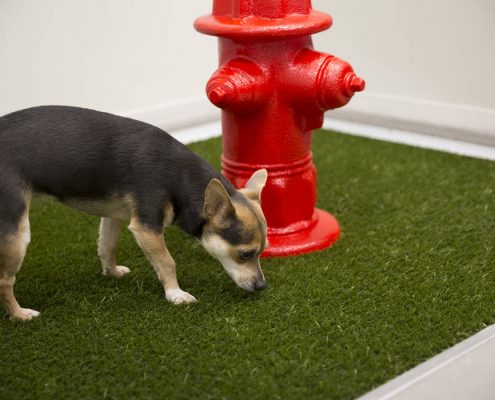 Las Vegas joins several airports across the country with pet relief areas, including Los Angeles, Denver, Miami, Atlanta, Honolulu and Dallas.
"It's certainly a need because we're seeing more and more people traveling with their pets," Crews said.
Pet owners are encouraged to clean up after their animals use the artificial pet turf, but there are other methods to keep smells, germs and residue from building up.
A ventilation system vacuums the air about 10 times per hour, Crews said. A self-cleaning sprinkler system washes the fake grass area, then flushes and drains the water. Maintenance crews also regularly scrub the rooms.
After an hour long flight Thursday, Joseph and Nelva Rasalan of San Jose, California, ducked into a relief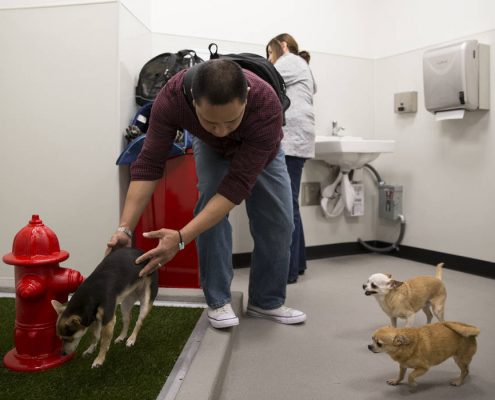 room with their chihuahuas Chester, Chelsea and Jade. The dogs frolicked and nervously sniffed the artificial turf, unsure whether it was safe to use.
Chester and Chelsea weren't having any part of it. After some hesitation, Jade bravely squatted to do her business.
"We always carry a newspaper and find a location where there isn't a lot of people so they can go to the bathroom," Joseph Rasalan said. "Pets are just like family, so having this room for them is pretty great."
K9 areas are installed every day in public and private facilities across the world. All Genesis artificial pet turf is antimicrobial and will not hold moisture, residue, and bacteria. For help with artificial pet turf, please call or email us at 855-887-3435 – Sales@online-turf.com
https://www.online-turf.com/wp-content/uploads/2017/06/Artificial-Pet-Turf-4.jpg
700
1050
GenTurf15
https://www.online-turf.com/wp-content/uploads/2019/08/300x100_online_turf_logo.png
GenTurf15
2017-06-01 15:05:31
2018-03-16 08:41:08
Artificial Pet Grass Potty Stations at Las Vegas McCarran Airport