With child obesity at its highest point in recorded American history, more parents and educators are looking for ways to encourage their children to be active and spend time outdoors. However, in most states, the weather really only permits outdoor activities a single season out of the year. In the northern states, the summers are nice, but the winters are harsh. In the southern states, and particularly in the southwest, the summers are dangerously hot and the winters are generally mild. The weather isn't something that can be changed, but the way we design our outdoor areas for play can be.
This is where Genesis Lawn artificial turf comes into play. In the southwest, where conserving water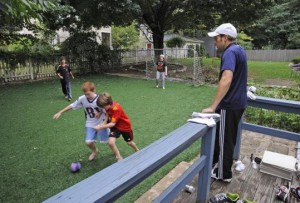 is critical, artificial lawns are an excellent alternative to dirt or patchy grass fields. These lawns use less water than traditional grass and do not allow for the creation of, or spread of, dust particles in the air. They can easily be cleaned and are more durable than natural grass fields. In addition, soft padding placed underneath the turf's surface makes for a safe and level space for kids to play. More humid areas will benefit from artificial turf in many more ways, the best of which is probably the pest-resilient nature of synthetic grass. Because they provide no nutrients for bugs and because of their durability against moles and gophers, artificial lawns are much safer for your entire family – especially your pets, who can avoid the ticks and fleas which normally occupy the lawn.
Northern states will enjoy having a green yard in the middle of winter. Artificial lawns require very little maintenance or upkeep. The expenses involved are minimal, as you no longer have to worry about pesticides, herbicides, fertilizers, etc. There is the upfront cost of installing the lawn, but even that is offset by LEED credits. You can also deduct the cost of your time, as you will no longer have to mow or trim.
With these benefits in mind, the real benefit of artificial turf is that it is a viable and practical product that encourages outdoor activities. Many playgrounds are now being installed amid synthetic blades of grass simply because it is safer and promotes play. There are fewer pollutants to worry over and less of a risk of kids tripping and falling. For more information on artificial turf, call us at 855-887-3435. Your estimate will be free and our lawn care experts will evaluate your needs to find the right product for you.
– Genesis Turf
https://www.online-turf.com/wp-content/uploads/2016/11/Artificial-Turf-300x203-1.jpg
400
495
turf
https://www.online-turf.com/wp-content/uploads/2019/08/300x100_online_turf_logo.png
turf
2016-11-17 14:33:24
2018-02-11 19:48:26
Artificial Turf Helping Families Become More Active